Main content begins
Southwest Rapid Rewards® Plus Credit Card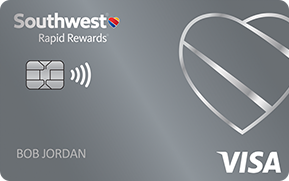 Clickable card art links to Southwest Rapid Rewards(Registered Trademark) Plus Credit Card product page Clickable card art links to Southwest Rapid Rewards(Registered Trademark) Plus Credit Card ratings and reviews page Clickable card art links to Southwest Rapid Rewards(Registered Trademark) Plus Credit Card refer a friend page
At a glance
30% off promo code discount is on base fare and applied before taxes and fees.
3,000 anniversary points each year. Plus, earn 2X points on Southwest
®
purchases and 1X points on all other purchases.
*

Same page link to Offer Details

Travel Credit Card Rewards & Benefits
Explore Additional Benefits
Cardmember Reviews
Showing 3 of 2,559
Featured Review
Perfect Card
Love this card! Love the airline! It fits all of my needs and the points for flying are awesome. I never use another card this one is my go to!
Worth it
My husband and I aren't credit card people. This is in fact the first card we've had in 10 years. The benefits of earning points to use to purchase airline tickets are great. Especially when our family is so far away. We love our Southwest Visa.
My Southwest Card Allows Me to See My grandkids!
We retired out of state and I get to see my grandkids so much more than I would be able to without this card. The frequent flyer miles I earn on things I normally spend money on anyway, allow me to fly more than I could afford to fly otherwise. JUST PRICELESS!
Browse credit cards by category
Start of carousel
End of carousel